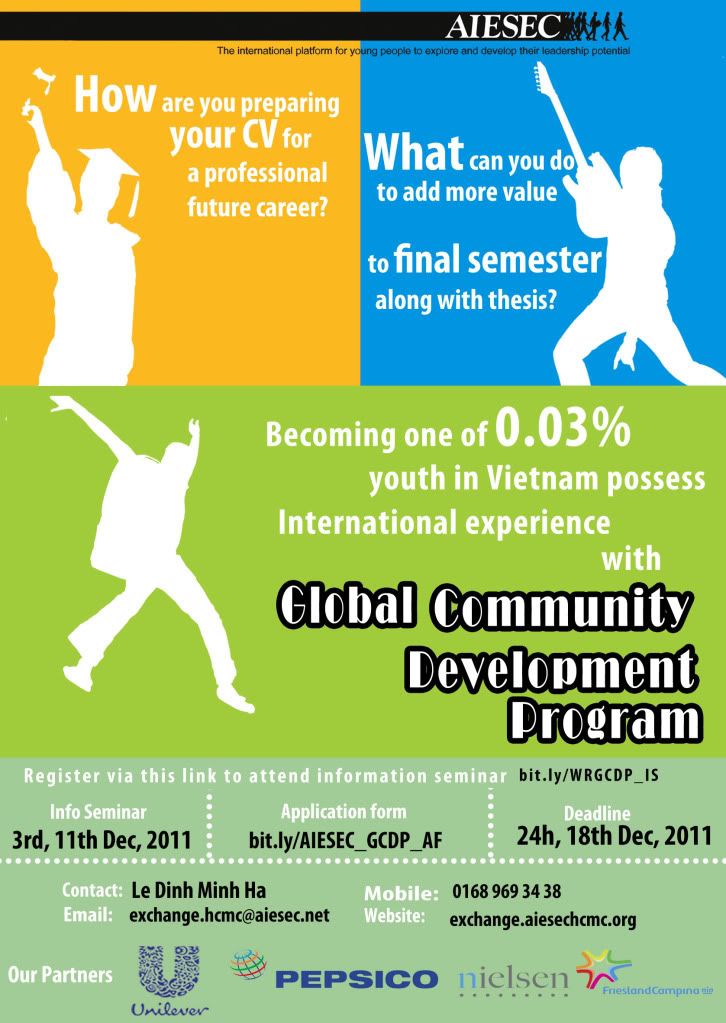 Global Community Development Program
We are now running Global Community Development Program (GCDP)– Winter 2011. In GCDP, Students can get the opportunities to "Travel Aboard, "Experience Professional Working" and to haves"International Networking" as well as "Explore different cultures".
By this way, students would have personal development, international understanding and leadership development as much as awareness about global issues as global citizen. They are not only encouraged to be successful in their own life but also make a positive impact on their society.
• Aboard Travel: The opportunity for students to travel to many different countries in the world from Asia to Europe and special countries: Thailand, Indonesia, Philippine, China, Taiwan…
• Professional Working Experience: By joining our program, students will have the opportunity to work in AIESEC environment or start their career by working for international Cooperation and Firms
• International Networking: In Global Internship Program you will get the opportunity to make friend with many students from many different countries and regions.
• Culture Exploration: When you are in our Program, you will get the Opportunity to live with the native people and deeply experience different culture in the most completed ways.
More information and experiences sharing can be found by registering for Information Seminar or go to our website: exchange.aiesechcmc.org .
Application Form
Deadline: 23:59 December 18th 2011
Link to download: bit.ly/AIESEC_GCDP_AF
Information Seminar
Deadline: 23:59 December 1st for sections in December 3
23:59 December 8th for sections in December 11
Link to register: bit.ly/WRGCDP_IS
Please reply to
exchange.hcmc@aiesec.net
for any further inquiry about
Global Community Development Program
AIESEC Global Community Development Program 2011
Official website
http://www.aiesec.org/vietnam