Ngày hội Sinh viên và Doanh nghiệp -
UIT Career Day 2022
sẽ diễn ra từ
7h30 - 13h00 thứ bảy ngày 14/5/2022
tại Trường Đại học Công nghệ Thông tin
Công ty
Netcompany
là một trong những đối tác của Trường ĐH Công nghệ Thông tin, là Doanh nghiệp Tài trợ Bạc cho UIT Career Day 2022
​​
​
​​
​
​
Theo dõi sự kiện và những mini game trước ngày hội để Nhận những phần quà hấp dẫn từ BTC Ngày hội và các Doanh nghiệp tham gia:
Fanpage UIT:
https://www.facebook.com/UIT.Fanpage/
Diễn đàn sinh viên Trường:
https://forum.uit.edu.vn
SELFIE CHECK IN UIT CAREER DAY 2022
ĐỂ NHẬN ĐƯỢC NHỮNG PHẦN QUÀ MAY MẮN VÀ + ĐRL
Netcompany introduction
Netcompany was founded in 2000 and has its headquarters in Copenhagen, Denmark. With the acquisition of Intrasoft International in late 2021, we added 2,800 people to our existing roster of 3,500 people. Today, we are an international company with more than 6,500 employees working from 17 countries. We serve a wide array of customers in their digital transformation journeys in public and private sectors across Europe.
Netcompany is a pure-play IT services company delivering business-critical strategic IT projects that accelerate customers' digital transformation through digital platforms, core systems and infrastructure services.
Netcompany Vietnam has just moved to a new office in Opal Tower – located near the heart of Ho Chi Minh City.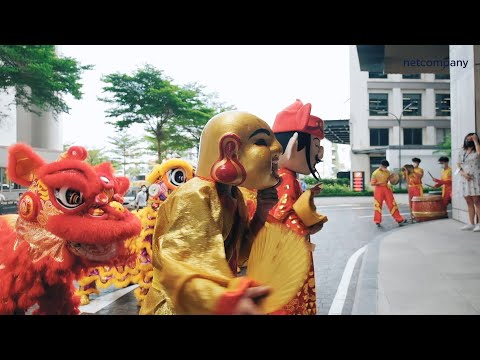 Culture and values
At Netcompany, we understand that our employees are the key to maintaining our position as the most skilled and fastest growing IT consulting firm. That is why we have created a business model where we constantly focus on developing our employees to becoming the best in the industry. That means their career is just as important to us as it is to them.
Netcompany Quarterly Business Update
Netcompany's international working environment

Netcompany Vietnam's company trip last year